Home & Builder's Show packed with ideas for remodelers, builders
KEARNEY — Inside and out, roof to basement.
The 35th annual Home & Builder's Show features products, experts and ideas to help improve homes. Tami Moore, president of the Kearney Area Builders Association, understands how an event like the show can help homeowners and contractors find each other.
"The home show includes displays of new trends in design and materials by building suppliers, exterior and interior," Moore wrote in an email interview with Hub. "For homeowners considering remodeling or building, there are several of Kearney's best builders, either with exhibits or wandering around, volunteering their time. The show connects clients and builders."
The show opens today and continues through Sunday at the Buffalo County Fairgrounds. Admission is $5 and free to children 12 and younger.
"The show includes builders, Realtors, building materials — roofs to basements," Moore said.
Patrons can learn about exterior deck and patio features, landscaping, appliances, HVAC as well as security systems and other areas of home security. Traveling vendors highlighting food, makeup and pots and pans can also be found at the Home & Builders Show.
"Vendors hope that customers will see products that they will insist on when they build or remodel," Moore said. "It isn't a 'buy and take home' shopping experience for most exhibitors."
The show features many ideas that can help spark the interest of homeowners and remodelers.
Moore also understands that the January weather in Nebraska can be a challenge.
"It's a great time to park the car in the cold and spend a few hours walking inside where it's warm," Moore said.
+1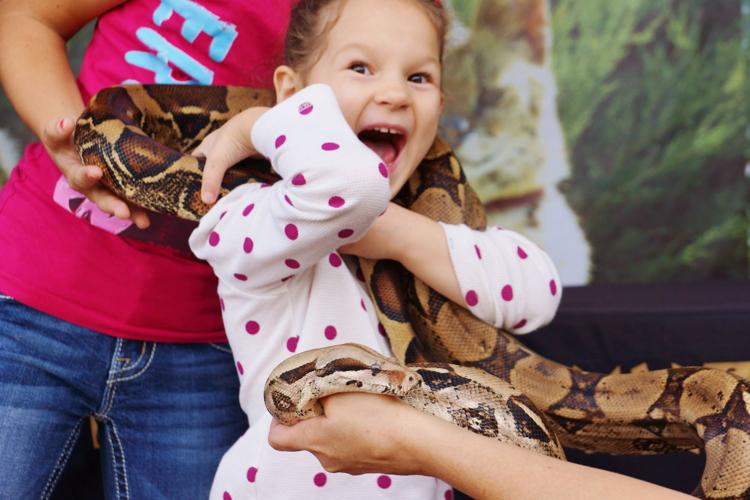 This weekend's Home & Builders Show at the Buffalo County Fairgrounds' Expo Center will feature animals from Wildlife Encounters at 11 a.m., 1 p.m., 3 p.m. and 5 p.m. Saturday, along with shows at 1 p.m. and 3 p.m. on Sunday.
Courtesy
Wildlife Encounters will present a live demonstration of wild animals during the show. Moore sees the wildlife shows as an added feature for children and families.
"This annual event is just one of many things KABA provides to the Kearney community," Moore said. "Weather has impacted attendance, but success isn't measured in numbers of attendees. We feel successful already. Organizing such a huge event is a big deal. Our show stands up to or exceeds the size and impact of those in surrounding communities."